Double-Sided Marble Board Games
Choose Style
Cedar
Cherry
Dark Oak
Hickory
Light Oak
Maple
Walnut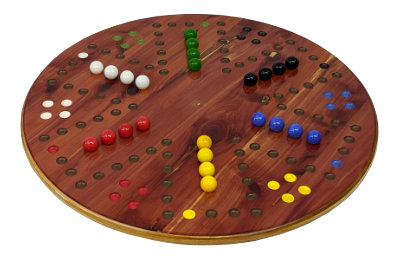 Board Style: Cedar
Features

Hand Crafted 2 foot round double sided board

Many types of wood e.g. Hickory, Cedar, Oak, Walnut, Maple & Cherry

Polyurethane glossy finish

Large Marbles which are easy to grasp and see

Laminated set of rules

Anywhere from 2-6 can play

Similar board on Amazon or Ebay is $140, mine sells for $70

3/4" holes, where if one bumps the board the marbles don't move (Like the cardboard game Sorry or Aggravation)

Appeals to a wide age range, had 5 year olds to 101 years old play the game

Board can become an heirloom (at many craft shows people have said their grandpa made a board like that)
The game is simple yet strategic.
About Us
I'm a retired chemical engineer, my wife and I were out with some friends and played this game using a two foot round board, marbles and playing cards. I fell in love with the game and knew I could make the board. After drawing up a template and experimenting with different woods, coatings and router bits I came up with my final design.
I volunteer at a local assisted living facility once per week and play this game with 97 & 101 year olds. There are different variations of the game such as people using dice, having a hole in the middle of the board and lots of varying rules. The game is like the game "Sorry" or "Aggravation". The game is fun & addicting. I have sold over 100 boards in 3 years.